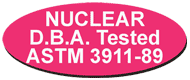 Outstanding erosion/corrosion resistance!
Repairs Damaged Equipment — Protects New Components.
The Most Advanced Polymer Composite Coating System Available!
NUCLEAR D.B.A. Tested ASTM 3911-89
METALCLAD CeramAlloy CL+ is a 100% solids, two component, liquid high-performance polymer composite used for repairing, resurfacing and coating components to provide outstanding fluid flow erosion and corrosion resistance.
When mixed, METALCLAD CeramAlloy CL+ is a viscous liquid. CL+ then cures to a hard, ceramic-like material with an extremely smooth surface finish.
High Performance Polymer Composite for resurfacing and protecting all types of fluid flow components from aggressive erosion and corrosion damage.
Cavitation Resistant
Apply by Brush, Roller or Flexible Applicator
Requires No Heat
Unlimited Shelf Life
100% Solids
Safe & Simple To Use
Use for Heat Exchanger Tube Sheets & Water Boxes, Pumps, Valves & Pipework, Housings & Tanks, Cooling Towers, etc.
Extended Information
Ask an ENECON Tech
Sign up for ENECON's latest Repair - Don't Replace solution