Energy Conservation — Wet insulation can be worse than no insulation at all. ENESEAL is ideal for protecting all types of insulation from water and oil impregnation.
Damage is the number one problem in maintaining pipe insulation.
Damage, from impact or wear from workers climbing over it, allows moisture in and the insulating value is lost or severely diminished.
The ENECON Solution:
ENESEAL HR™. A Ceramic-filled, liquid membrane which dries to a seamless, flexible, durable, moisture resistant, breathable 'skin'. It's extraordinary heat refractive properties provide for significant energy savings by reducing surface temperatures on roof structures due to solar heat. Here's proof of the solar benefit.
Easily able to recoat when needed without surface preparation other than normal cleaning. Here's an application in an unlikely place – the Panama Canal!
Added benefit – although blocking liquid water from penetrating from the outside, ENESEAL HR™ "breathes", allowing moisture that condenses on the pipe itself, as it changes temperature, to migrate through the insulation and escape, maintaining the R value of the insulation.
Have existing metal insulation as protection? This standard solution still leaves multiple seams which might allow moisture to penetrate. Apply ENESEAL HR™ to seal the entire surface AND provide heat refractive properties to reduce surface temperature.
A typical damage problem/solution is shown below:
Note that the roof penetration has also been sealed and protected at the same time.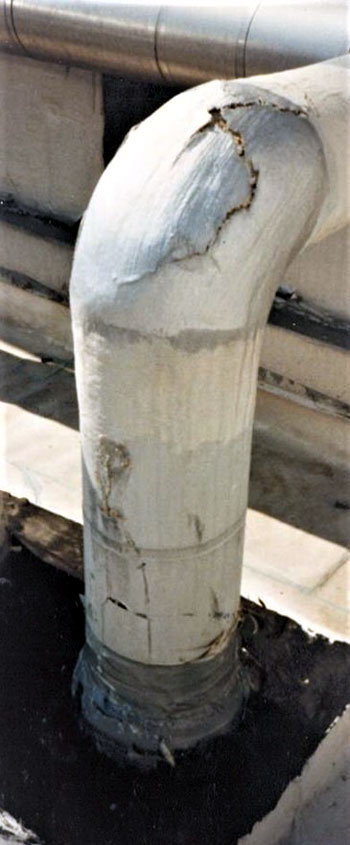 Damaged insulation, paper covering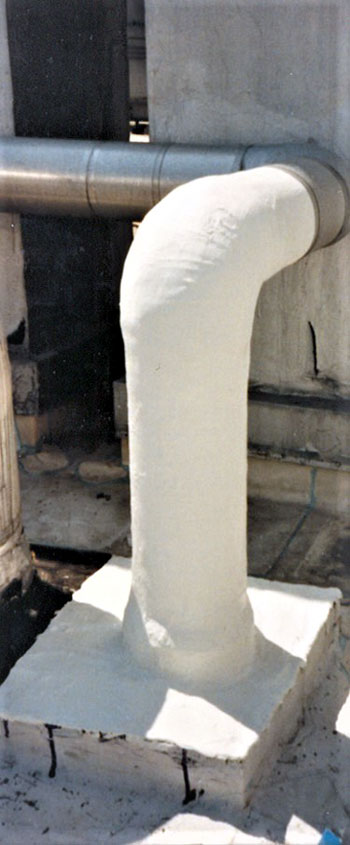 Sealed with ENESEAL HR™