In times like these we want to insure you that we can help you and your facility solve emergencies and urgent issues.
Critical companies, like the US Navy, US Army, Power Stations, Pharmaceutical Manufacturers, Food and Processing Plants have all deemed ENECON's products and services as critical to maintaining the safe operation of their equipment within their facilities. We are manufacturing and shipping all of our repair materials, including our essential Emergency Repair Kits.
Let me know how ENECON can help you keep your facility running the way it should. Remember, the COVID-19 virus will not last forever. We will get through this!
Mechanic's Repair Kits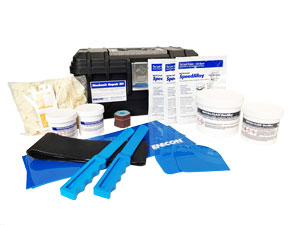 Damaged shafts
Oversize bearing and bush housings
Pumps
Impellers
Sloppy keyways
Cracked or holed casings and blocks
Stripped threads
Scored hydraulic rams
Door jams
SpeedAlloy - The leak stopper - Mix and apply in 5 minutes, curing in 30 minutes.
SpeedAlloy QS - Stop active leaks in just seconds curing in minutes.
METALCLAD DurAlloy - A machinable, trowelable metal repair material that can be: Drilled, Tapped, Sanded, Polished
Will bond to virtually any rigid surface.
No heat is required. Materials are ideal for areas where flammable liquids are present.
All products have an indefinite shelf life- keep on hand for emergency repairs!
Each kit contains:
1 x 1 kg DurAlloy - Machinable metal repair
3 x 167 gm A-Packs SpeedAlloy - Leak Repair
1 x 250 gm SpeedAlloy QS - Stop active leaks
2 mixing boards, 2 mixing knives, 2 applicators, 6pcs (3 in x 3 ft) reinforcement tape, 1 roll of sandpaper, alcohol wipes, latex gloves.
All packed in a handy tool box.
---
Reserve a Kit