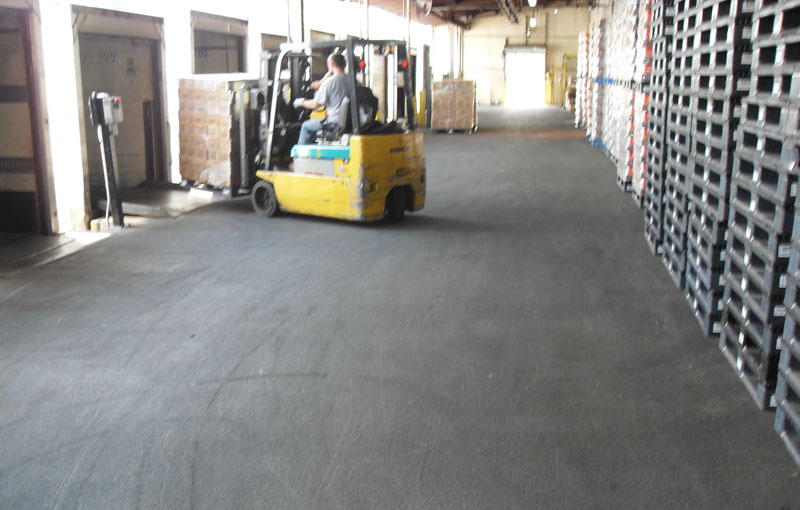 Loading docks are an essential area for commercial facilities and warehouses. Products and goods must be dropped off and shipped out in order for a business to operate. Most loading docks are very high traffic areas, workers and equipment (dollies, hand trucks and fork lifts) must operate, at times, in tight and unsafe conditions. Facility managers and safety personnel should have scheduled inspections of their loadings docks, including: dock lifts and seals, canopies, levelers, bumpers, ramps and especially flooring.
According to OSHA, "Operating surfaces must be strong enough to support the forklift, its load and its operator. They must also be free of holes, grease, oil or obstructions that could cause the lift truck to skid or bounce, and possibly tip over."1
Depending on the facility, there can many reasons why the flooring of a loading dock may be unsafe. At this large orange juice distributor, bad weather, product spills and concrete damage around loading docks created an unsafe work environment. The damaged concrete was grit blasted and repaired with DuraQuartz. Next, over 20,000 sq. ft. of loading docks and ramps had to be repaired using over 40 units of DuraFill. Garnet aggregate was broadcasted into the DuraFill to provide the required slip resistant.
This repair will provide the distributor's facility a long lasting solution to the loading dock damage they experienced and a level of safety from slips and falls. Does your loading dock flooring need repairs? Contact ENECON today and let us provide a solution to fit your needs.
Case Study: Dura-Grip Safety System Eliminates "Slippery" Hazard on Major Orange Juice Distributor's Loading Docks and Ramps