AVERAGE INCOME FOR AN ENECON SALES PROFESSIONAL - OVER $125,000!
ENECON is one of the finest industrial repair and maintenance solutions providers in the world. Our products are manufactured in the U.S.A. and are used to repair and protect all types of machinery & equipment as well as buildings and plant structures from erosion, corrosion, chemical attack, wear & abrasion, etc. Please browse our website to view our unique high-performance products and installation services.
We are looking for outstanding sales professionals who have at least 5 years of successful B2B sales experience to develop ENECON business in a protected, exclusive geographic territory.
Compensation includes salary + generous commissions + bonuses + full expenses + car allowance + corporate profit sharing & 401K.
Please complete the form with your resume to apply.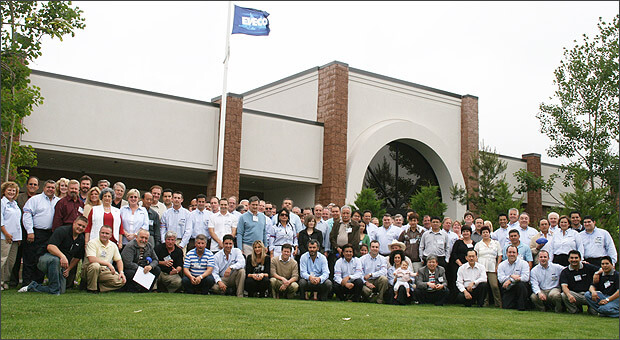 From the Founders of ENECON:
Andrew A. Janczak and
Edward Krensel
ENECON is an industry leader in the critical field of fluid flow systems performance enhancement and plant life extension technologies. We have built an enviable reputation as fluid flow systems troubleshooters. We supply the most advanced products for rebuilding, resurfacing and protecting all types of fluid flow machinery, equipment and plant structures damaged by erosion, corrosion, wear and abrasion, chemical attack, hydrostatic pressure issues or mineral scale build-up. We are also able to provide complete turnkey project management services to those clients who do not have their own labor pool or require single source accountability.
We provide on-going training and field support to our sales executives so that they will be able to call on all industries, utilities, institutions and government agencies – from power stations, petrochemical plants and paper mills to hospitals, universities and even shopping malls.
If this unique opportunity interests you, please send us an email. Tell us about yourself and why you believe that you would make a good addition to our growing ENECON Family. We're looking for someone special. That someone may just be you.
Apply Now...
Sign up for ENECON's latest Repair – Don't Replace solution
---
See What Our Sales Executives Have To Say About ENECON: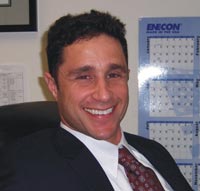 Matt Goldberg
Vice President U.S. Direct Sales & Turn Key Operations
I joined ENECON in 1996. I had absolutely NO sales experience at all. I had a degree in Sociology and I was bartending at night to help make ends meet. ENECON gave me the opportunity to join their sales team in an entry level position. Eleven years later, I have achieved a level of success that I could not have imagined possible when I attended my week-long initial training class in NY. But top shelf training; top shelf products; and top shelf support have allowed me to achieve the 'TOP GUN' sales achievement award 8 out of the last 9 years. If you are prepared to put in the effort required to succeed, to do whatever it takes — then this is an opportunity that you can build your life around. I certainly did."
---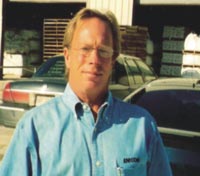 "Always helpful and responsive and has bailed us out time sensitive jobs when scheduling was not as effective as it should have been." - Manufacturer – TX
Howard Kotler
Regional Sales Director / Gulf Coast
I have been with ENECON since 2006 and what a great time I have had! Coming from a technical background (my degree is in Marine Engineering) with very little direct sales experience, I had a lot to learn and ENECON gave me the training, support and the opportunity to do just that. The hard work and perseverance have certainly paid off. I have become successful faster than I ever thought possible. Joining the ENECON Family has been the best career move I have ever made and I would enthusiastically recommend it to everyone."
---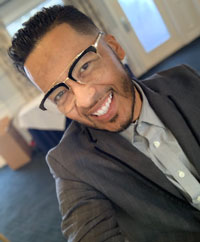 Marco Antonio Grande
Regional Sales Director
Western & International Operations / San Diego
I was fortunate to join ENECON in 2007 to handle the Los Angeles territory; I had been working the Latin American region for the past 15 years representing other manufacturers. From the very beginning ENECON encouraged the possibility of allowing me to take advantage of my vast experience in Latin America and help in the expansion of our products into the region. In my short time here, I have now been given the opportunity to play a pivotal role in signing up distributors. Even though my journey with ENECON has been short, it has already proven to me that if you work hard and apply yourself, you will be rewarded. At ENECON, the rewards you receive for your commitment are far greater than just monetary ones and I encourage anybody who is willing to put in the focus and effort that being a sales professional requires to join ENECON and watch your potential be harnessed, appreciated and rewarded."
---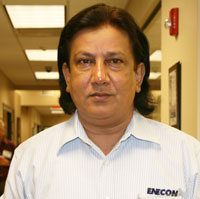 Madhurjya "Mady" Baruah
Regional Sales Director / India / Southeast Asia
I came on to ENECON in 2002 as the Sales Director for South East Asia. I had over 15 years of related experience in the industry. After joining ENECON, and under the guidance of Ed and Andy, I expanded the markets in my territory for which I have won several recognition awards at ENECON. Working for ENECON is a great pleasure and very rewarding for me. I have been able to appoint a master distributor for ENECON products in India as well as distributors in several other Southeast Asian countries. There is extraordinary potential for ENECON in India and I am now exploring new industries such as the Indian Navy and Hydroelectric Power. Anyone with passion to guide industry people and solve their problems will really succeed in a company like ENECON."
---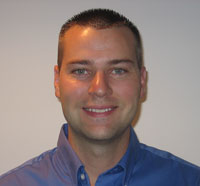 Kevin Padera
Regional Sales Director / Mid-West
You have no clue what type of opportunity ENECON can offer you". That is what ENECON President Andy Janczak told me in March of 2010. He truly is correct. At ENECON if you are willing to work hard the opportunities are endless. What I was looking for in a company is the ability to grow professionally as well as financially. At ENECON I can see both occurring. Another great point about this opportunity is every building and structure has problems. When driving in your territory simply look around and observe what buildings look like and ask "can I help them?" At ENECON you can and you will. The support of everyone that I have worked with at ENECON is second to none. If there is a question about a product or how to effectively sell a product all I have to do is call and I get the answer I need."
---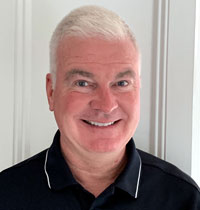 "Always providing support. Knowledgeable. Timely response to questions." - Power Plant – NJ
Kevin Kelly
Regional Sales Director / New Jersey
My background is in Commercial Property Management where I've been responsible for overseeing the maintenance and operations of some of the most notable Shopping Malls in the country. It was also my responsibility to increase revenue growth within the company by finding new business. I've always enjoyed the challenge of solving the most problematic maintenance and operational issues where replacement was not an option.

When the opportunity to join ENECON came along in 2011, I was intrigued by the "can do" attitude of everyone and the ability of a career at a growing, forward thinking company. The concept of "Repair – Don't Replace" really struck a chord with me, too. The creative approach to problem solving with the ENECON product line has been everything I expected and more. The ability to walk into a facility and come up with a solution where none had previously existed is very exciting and satisfying. This is a direct result of a management team/culture that enthusiastically supports its sales people and cares about its customers.

The prospect of building a solid business within my territory, increasing the awareness of the ENECON brand to all types of industries, to contribute to the continued growth of the company and to be a problem solver makes every work day unique – and very enjoyable."
---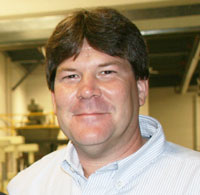 Bill Hosier
Senior Project Manager / Mid-Atlantic Area
Sometime in the summer of 2006, a good friend presented me with the opportunity to work alongside some installation technicians from a company called ENECON. They were working on a project at a major pharmaceutical manufacturer to prevent water from entering into the elevator shafts through the concrete walls and sumps. Having spent the last 20 years in the industrial maintenance field both as a mechanic and a supervisor, I was intrigued by the opportunity to participate and to witness firsthand how ENECON's polymer coatings could stop active water leaks. Needless to say I was impressed with ENECON and their products and fortunately for me, they were impressed with my hard work ethic. In just a few short months I was offered a position as the Project Manager of their turn key operations. I am proud to be a member of the ENECON Family and look forward to continuing to provide our customers with time saving, cost effective repair solutions."
---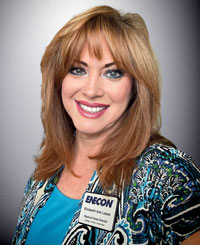 Elizabeth Lopez
Regional Sales Director for Florida, Georgia, Puerto Rico, and The Bahamas
I have always sold something; as a kid in high school, I sold subscriptions to the Miami Herald, home improvements, life insurance and yes, even cemetery plots! Later on I became a realtor and then became involved in the publishing industry; selling closeouts, returns, hurts and all other types of "bargain books" on a wholesale basis. I eventually developed a wholesale distribution business which I ran for 10 years.

I joined ENECON in July 2012, and I can attest to the fact that I have never been involved with a company so dedicated to their employees. They not only give you all the tools you need for success, they back that up with advanced sales training and continual coaching to guarantee the development of outstanding sales technique and performance. It is quite satisfying knowing that as my ENECON sales career soars, I'm helping more and more businesses solve their maintenance problems."
---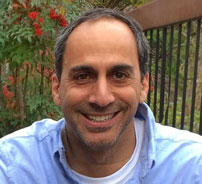 Kevin Fisher
District Sales Manager / Pennsylvania
I joined ENECON in the summer of 2015. I've been in sales for 25 years but had no idea about polymers or industrial coatings. The day I walked into the ENECON HQ and began their training program it did not take me long to realize that the people and their process were like no other I had experienced. ENECON'S team, which includes but not limited to the office staff, the chemists, the sales managers, the warehouse techs, and even Ed Krensel and Andy Janczak (the two owners) made me feel that they were all there to help me succeed. The process they have created encourages persistence, knowledge and integrity, a complete recipe for success. I see myself exceeding any professional and financial expectations I've ever had in the past."
---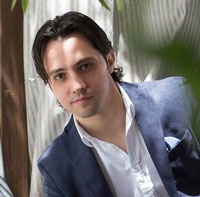 Oscar Diaz
National Accounts and Business Intelligence Director / Mexico
I started with ENECON as a National Accounts and Business Intelligence Director in Mexico, and began working on the research for new Distributors and with a key corporate accounts.

When I first started with ENECON I was amazed by one particular thing… ENECON's unlimited potential. For me, ENECON challenges you, ENECON makes you get away from your comfort zone and invite you to change, to make things different.

I was privileged at the beginning of 2016 when ENECON gave me the opportunity to start as a Regional Sales Director for Mexico, I have to say that if you work hard, ENECON rewards your effort as no other company that I've ever known. Right now I'm contributing with my experience in the industrial world as well as with my background and knowledge acquired in three great universities. However, the most valuable experience is what I am acquiring each day from all the people at ENECON. They have the experience and they also have a great human sense, which makes ENECON not just another company, but a great family.

I invite you to join this family and build together the next 25 years of success and innovation."
---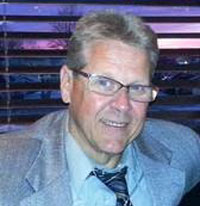 "Orders are processed in a timely manner. Stock levels are satisfactory, special orders are delivered on time. Exceptional telephone assistance." - Painting Contractor – FL
Bob Marangiello
District Sales Manager / Southwest Florida
I started my career with ENECON in 2013 as an independent sales representative in the state of Florida. As time progressed, I became fully aware of the uniqueness and professionalism that is a signature trade mark of ENECON. I was eventually given the opportunity to manage and develop southwest Florida as a District Manager. Before ENECON, my background was in sales and electro mechanical equipment design and operation for many different types of industries. This opportunity allows me to pursue my core fundamentals of unparalleled customer service and sales. In addition and most importantly, I am now able to solve our customers' problems in real time with very unique, advanced and cutting edge polymer composites that have dominated the industry for the past 25 years. I am extremely happy, proud and thankful to be part of the ENECON Family and look forward to a prosperous and rewarding career."
---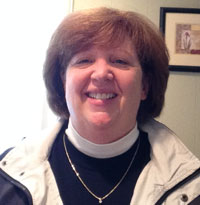 Kathy MacNamara
Regional Sales Director / Western Pennsylvania and West Virginia
I started my career working in the semiconductor and microelectronics industries and later spent years in advertising. I wanted go back to working with tangible products that would be a solution for my customers and enable me to be a part of their day to day operations. That's when ENECON came along. Products that give customers solutions to difficult problems they're trying to solve and a company that cared about and understood those problems. ENECON stresses working closely with our customers to be a part of their team. Every day is spent working with customers from all types of industry, talking over their problems, coming up with a solution and then guiding them through implementation. It makes for a fun job because every day is a little different and you get to see your products and solutions in action. The people at ENECON provide us with all the support we need while letting us build our territories and take ownership of our results. It's a great way to work every day."
---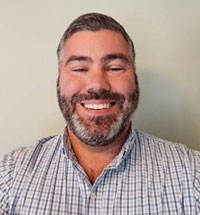 Bob Hartman
District Sales Manager / Central Pennsylvania
I started my ENECON career in September, 2021, and it has been a fulfilling experience. I have worked in both the sales and service industries for over 20 years, selling products ranging from logistics and medical devices to coatings and mechanical seals, but I have never worked for an organization that provides the support like the ENECON team does. Every day is a learning experience and a challenge that I embrace and enjoy. It is an honor to present top quality repair products that are specked in to make repairs for Army tanks and Navy ships as well as machinery, equipment and building structures repairs to new and existing clients and help them solve their repair and maintenance needs. I am proud to be a part of the ENECON family and work for such a great team that provides the tools for me to be successful."