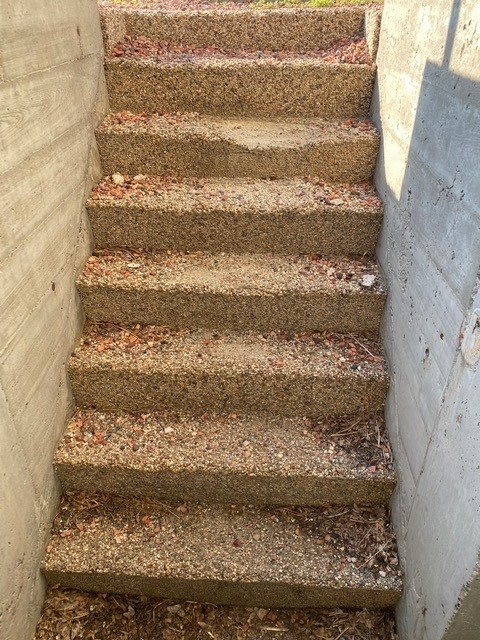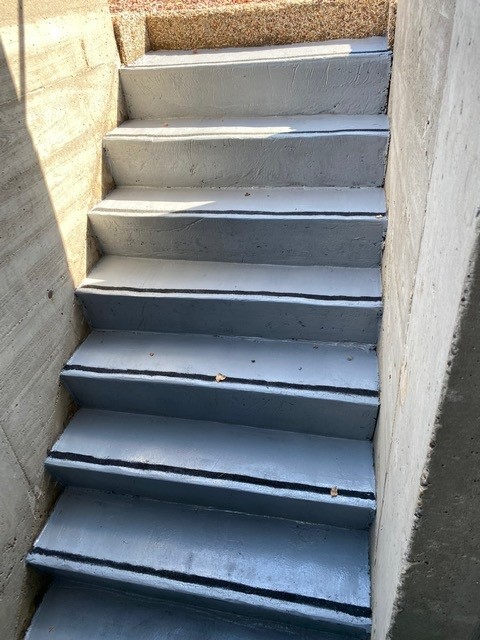 A western U.S. university had an outdoor staircase leading to a basement mechanical room that had fallen into disrepair. A previous attempt to repair the stairs had been made using an epoxy with an overlay of pea gravel. That repair eventually failed and the local ENECON Distributor was contacted and asked to help find a solution to this problem.
The first stage of this repair was to remove the failed pea gravel overlay and crumbling concrete to expose a solid surface below. The surface was then high pressure washed and degreased.
A form was built to the size of each step and DuraFill mixed with approximately 500 pounds of locally sourced sand was used to rebuild the staircase. The steps were given a proper pitch for water runoff.
SuperBond and black aluminum oxide were used to create a DuraGrip strip on the front edge of each step. Then the entire staircase was coated in two coats of ENECLAD WBC with a backrolled aggregate to provide even more slip resistance.
The university's facilities manager was very pleased with the results of this application. It served two purposes: the staircase is now aesthetically pleasing and it is no longer a potential safety hazard.
---
Ask an ENECON Tech