Power Station Repairs 60 Year Old Francis Turbine Casing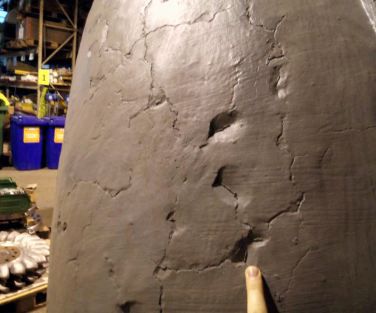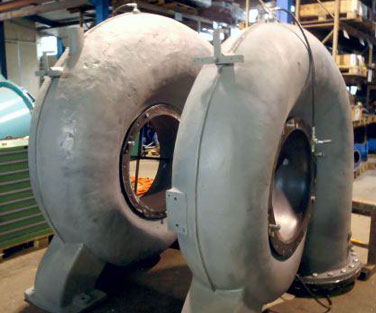 The Francis turbine is one of the most used turbine worldwide, mainly due to its outstanding efficiency. Working fluid enters the turbine under extreme and immense pressure, and energy is then extracted by the moving turbine blades. Exposure to such intense pressure and fluid can lead to wear over time, as experienced firsthand by a major power station in Germany.
The casing of two 60 year-old Francis turbines were in very poor condition, as they were structurally compromised causing leaks. Power station engineers were concerned that if the turbine were to fail, catastrophic damage would occur. ENECON Germany was called in to see if they could refurbish the two casings, which weighed in at about two tons each.
The casings were grit-blasted to clean the surface and maximize adhesion. Then DurAlloy was used to seal the leaks, and rebuild the surface back to its original thickness, shape and contour.
In order to restore and reinforce structural integrity, DuraWrap system was applied on the interior of the turbine casing. The system eliminates the need for expensive replacements with its cutting-edge carbon fiber technology.
To finish the job, a chemical resistant coating of CHEMCLAD XC was applied over the DuraWrap, providing a smooth surface finish and restoring the component's efficiency.
---
Ask an ENECON Tech