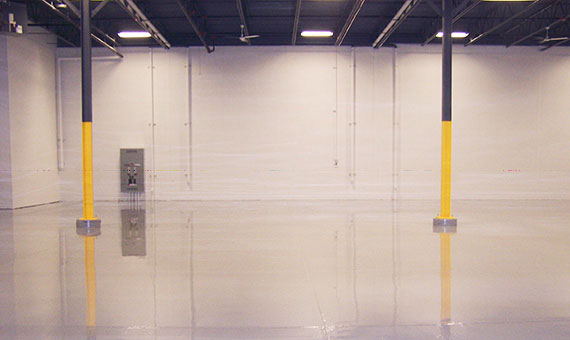 Business owners will have to deal with uncomfortable, and sometimes avoidable, situations from accidents in the workplace. Slips and falls are one of the primary causes for accidents in the work place. Injury, loss of production and even lawsuits can arise from these unfortunate incidents. If you are responsible for the safety or upkeep of your facility, make sure your flooring is in good condition, free from any cracks, holes, or slippery areas.
Industrial floors take a beating every day from harsh environmental factors like impact, abrasion or chemical attack. Simple things such as common wear and weather factors can also decrease the quality of a facility's industrial floors.
Time and time again, ENECON has completed industrial floor repair solutions across multiple types of facilities. Whether your flooring is subjected to: dust, hydrostatic pressure, chemical attack, drubbing from machinery and tools, or slippery areas, ENECON provides a host of products for your industrial floor repair needs.
Our CHEMCLAD SC, CHEMCLAD XC, ENECLAD FPS, ENECLAD CFS, ENECLAD SPS and ENECLAD WBC high performance polymer composites provide the most effective floor protection solutions to a wide range of chemical attack and high wear applications.
CHEMCLAD P4C is a two component, water borne, polymeric 'adhesion enhancer' specifically formulated to help seal concrete / cementitious surfaces and insure optimum interface bonding between the surface and the ENECON High Performance Polymer System selected as the finish coat.
Our ENECLAD SuperBond ultra high performance primer and bonding agent can make floor prep simple and inexpensive.